Information for Prospective Students
---
Featured Campaigns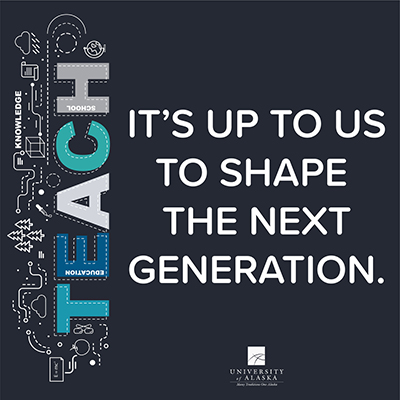 Teach Alaska
Campaign For Alaska
---
Did You Know?
Did you know that students at University of Alaska Anchorage are studying how therapy dogs in dental offices can help reduce patient stress?

June 14, 2022


Meet Luci the therapy puppy, who helped UAA dental hygiene students Shayna McGinty, Amber Carroll and Tetiana Sazhnieva with their research - studying the positive effects of having therapy dogs work in the dental industry.
Read article

Did you know that the University of Alaska system plays a critical role in alternative energy research that can set the standard for the rest of the country?

June 03, 2022


Through research projects at UAF's Alaska Center for Energy and Power, education at University of Alaska Southeast, and economic analysis from the Center for Economic Development at University of Alaska Anchorage, it's easy to see that Alaska has the potential to set the standard of excellence in alternative energy for the rest of the country.
Read article

Did you know that each year the University of Alaska Fairbanks Large Animal Research Station celebrates the arrival of new muskox and reindeer babies?

May 31, 2022


These cuddly creatures join the herds at LARS to be raised and cared for as part of UAF's student veterinary training, biological sciences, and other programs.
Read article
More Stories
UA in the News
UAA gymnastics reaches fundraising goal for permanent reinstatement

June 23, 2022

For the past 21 months, the Seawolves were in limbo, operating in uncertainty after the Board of Regents voted in September 2020 to discontinue the program along with hockey and Alpine skiing. But that doubt washed away Wednesday when the school announced the gymnastics team had reached its fundraising goal of $888,000 and would be permanently reinstated.

Read Article

University of Alaska researchers on team for European Space Agency's Venus mission

June 22, 2022

Robert Herrick, University of Alaska Fairbanks Geophysical Institute research professor, has been named to a NASA science team for the European Space Agency's EnVision mission to Venus. Herrick will be part of the team for the VenSAR instrument, a NASA-contributed synthetic aperture radar that will image and map the planet's surface.

Read Article

Northrim Bank Invests in University Business Education

June 22, 2022

Northrim Bank gifted $259,500 to fund UA System initiatives that advance research about the state's economy and fiscal policy, expand business education, and build entrepreneurship capacity.

Read Article
More News
575
Degrees, certificates and endorsements
22,044
Students enrolled in 2020
$170.1 M
Research expenditure
The University of Alaska is a land-, sea- and space-grant system of higher education established in 1917.
The UA system's three universities (UAA, UAF and UAS) are separately accredited institutions with campuses and extended learning centers across the state of Alaska.